My Apple Fennel Salad is a tribute to a Baby Spinach & Arugula Salad I enjoyed at Pure Spirits Oyster House & Grill, while lunching with friends in Toronto's Distillery District this summer. Pure Spirits' Baby Spinach & Arugula Salad (on their summer menu) was an elegant composition of compressed watermelon, shaved fennel, salted honey ricotta, and puffed wheat berry on fresh greens, in a well-balanced vinaigrette. I savoured every healthy morsel. Here's my take on it, replacing the compressed watermelon for seasonal apples.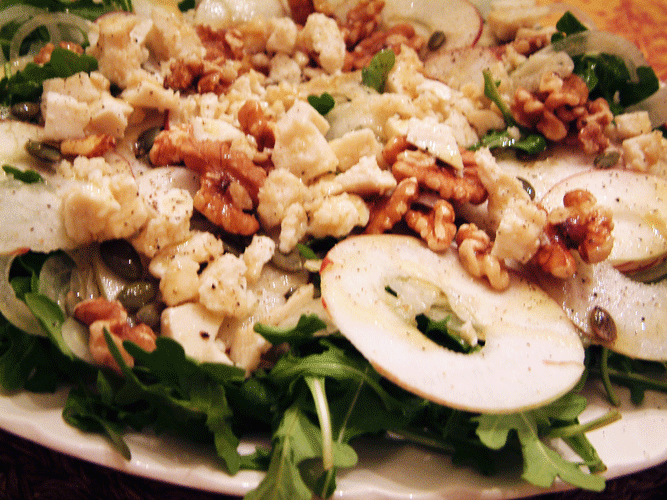 Pure Spirits Oyster House & Grill has switched up the ingredients in their Baby Spinach & Arugula Salad on their fall menu: it now has organic red quinoa, roasted root vegetables, pomegranate, and Roaring Forties Blue – a cheese from Australia's King Island Dairy that has been well-praised in the press. Mmmm, I think a trip to The Distillery District is in order: lunch at Pure Spirits, a hot chocolate at Soma, and getting into the spirit of the season at the Toronto Christmas Market (details can be found on my Farmers' Market Directory or on the Toronto Christmas Market website).
A note on the oil: I wandered into the Wandering Locavore, Leslie Edwards, at Centro Farmers' Market in Burlington this summer, and bought Fennel Infused Olive Oil (made by The Village Press, Hawke's Bay, New Zeeland), which I have been swooning over since. This luxurious, aniseed-flavoured olive oil is perfect for my Apple Fennel Salad or as a last minute drizzle over roasted fish (see my Grilled Trout with Tahina Sauce recipe and switch out the tahina sauce for fennel infused olive oil). Leslie delivers to Mississauga, with a minimum $25 order. To find out if Leslie will deliver to you, contact her on The Wandering Locavore website. Check out what other goodies the Wandering Locavore has to offer and what events Leslie will be selling her products at this season.
If you can't get your hands on fennel infused olive oil, you could always try making your own. Click here for a link to a Garlic and Fennel Infused Oil recipe on the Food Network that looks good. If you try it, let me know how it turns out. Or just use your best extra virgin olive oil.
A note on the cheese: Ricotta salata is an Italian firm white cheese made from sheep's milk that is pressed, salted, and aged, unlike fresh ricotta. You can find it in Italian supermarkets such as Longo's and also in Whole Foods. It is drier than brined feta but if you can't find ricotta salata, feta would be a fairly reasonable substitute. Or switch it up and use crumbled chèvre instead.
Apple Fennel Salad
What a wonderful way to celebrate fall: a healthy salad featuring fennel and apples.
Serves 4
Ingredients:
Dressing:
1 tablespoon apple cider vinegar
1 teaspoon honey, or more to taste
Coarse salt and freshly ground black pepper, to taste
3 tablespoons The Village Press Fennel Infused Olive Oil or plain extra virgin olive oil
Honeyed Cheese:
½ cup ricotta salata, crumbled
Honey
Salad:
4 – 5 large handfuls baby arugula
½ small sweet onion, shaved into thin slices
½ bulb fennel, shaved into thin slices
1 apple
1 small handful natural, shelled walnut pieces
1 small handful natural, shelled pumpkin seeds
Honey for drizzling
Directions:
Dressing:
In a small bowl, whisk first 4 ingredients to blend well; slowly pour in oil, whisking constantly until well-blended. Taste and adjust seasonings, if required; set aside.
Honeyed Cheese:
Drizzle just enough honey on crumbled cheese to coat lightly; toss to coat evenly; set aside.
Salad:
Spread arugula out on a large platter. Layer on shaved onion, and then fennel.
Just before serving, core but do not peel the apple; shave into thinly sliced rings; arrange on top of fennel. Top with honeyed cheese. Sprinkle with walnut pieces and pumpkin seeds. Pour dressing evenly over salad. Drizzle with a little more honey, to taste. Serve immediately.