Not quite into the Christmas spirit yet? No time to bake? Here's an easy fix: stand outside the Oakville shop of artisanal cookie maker Elm Hill Cookies and breathe in the delicious fragrance wafting out onto the sidewalk. That`s organic unbleached flour, butter, brown sugar, and all natural goodness you are inhaling. Now step inside this tiny Kerr Street shop – brimming with wee gingerbread houses and cookies in all sorts of flavours from traditional to chic – and say hel-lo Christmas (fade in Charlie Brown Christmas music).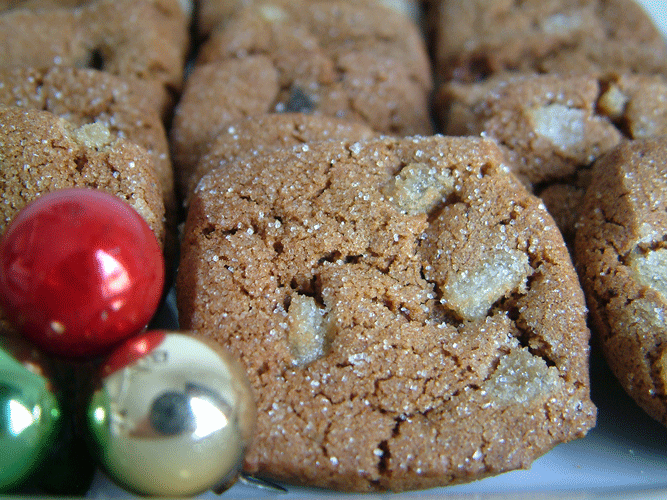 Elm Hill`s Double Ginger Bites are my favourite: sized just right and sprinkled with sparkly sugar, they are perfect for a Christmas cookie tray. These little gems are soft and chewy, sweet and warmly spiced, with a double hit of ground ginger and crystallized ginger – just enough to make me exclaim olive it!
I'll bet this will be Santa's first stop on Christmas Eve and after that, he'll only pretend to nibble on all the rest of the cookies left under all the other trees.
Elm Hill Cookies
250 Kerr St, Oakville ON L6K 3B2
Telephone: 905-582-7400
Holiday 2013 Hours:
Monday December 23 from 10:00 a.m. to 5:00 p.m.
Tuesday December 24 from 10:00 a.m. to 3:00 p.m.
December 25, 26, & 27 closed
Saturday December 28 from 10:00 a.m. to 5:00 p.m.
December 29 to January 6 closed   Check Elm Hill website for regular hours:
www.elmhillcookies.com