It's hard to go cold turkey (pardon the pun) after a season of festive overindulging. I know I'll still need a treat once in a while, and when I do I'll indulge in chocolate; not mass-produced, sugar-ridden candy bars but really good, finely crafted dark chocolate that ranks high on the pleasure scale and is relatively healthy.
Of course, gourmet chocolate is expensive but it is meant to be savoured one square at a time. One little square of the very best dark chocolate popped in my mouth – crunched once or twice just to break open the flavour, then melted very slowly to bring out the character and lengthen the pleasure while I swoon over the creamy luxury – is a tiny, worthwhile indulgence that will satisfy me far more than a flavourless candy bar.
To find the best dark chocolate I can get my hands on in my area, I head to my gourmet gurus, John and Loretta Viola, owners of The Shop For All Reasons in Streetsville.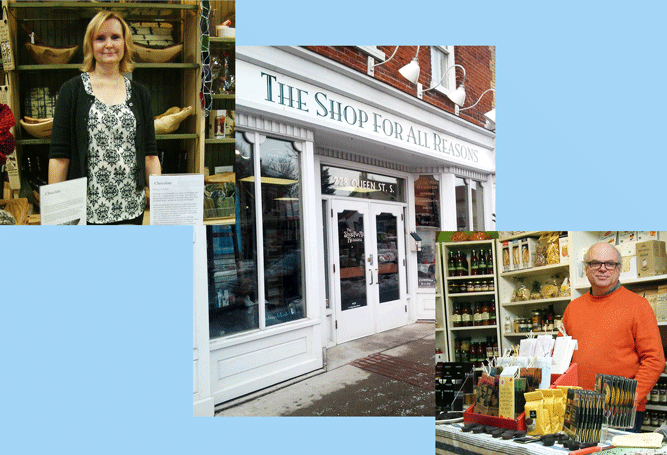 Behind these doors lies an impressive collection of gourmet chocolate and other gourmet specialty pantry products that the Violas have knowledgeably selected from some of the best local and international artisans, including what Food & Wine magazine called "the world's best chocolate".
Here is a line-up of the dark chocolate bar collection at The Shop For All Reasons, including some facts I learned from the Violas:
There are three types of cacao beans used to make chocolate: 1) Criollo is the best bean but is rare and susceptible to disease. 2) Forestaro gives higher yields but lacks flavour. Up to 90% of chocolate is made from this bean. 3) Trinitario is a mix of Criollo and Forestaro. It has more flavour than Forestaro and is more robust than Criollo.
What does "bean-to-bar" mean? Unlike big companies who mass-produce chocolate, artisanal "bean-to-bar" chocolate entrepreneurs import the dried beans themselves – usually directly from the farmers, working closely with the farmers, paying them fair prices, and often investing in them, to produce the best beans possible – and then craft the beans into bars. Bean-to-bar chocolate entrepreneurs sometimes prefer to redirect the money they would have paid for Fair Trade certification and invest it in the farming process.
Please click here to sign up for The Shop For All Reasons newsletter, to be informed of upcoming chocolate tasting and other tasting events. It's a great way to learn about what you are buying and find your favourite before investing your money.
Single origin, bean-to-bar chocolate.
Travels to plantations and works directly with farmers, providing innovation and technology, to produce great cacao. Provides flavour labs to farmers so they can make chocolate from their own beans and taste the result of their growing efforts (many cacao farmers have never tasted chocolate made from their own beans).
PureNotes dark chocolate focuses on 4 flavour tones inherent in different cacao beans: 1) Fruity (Peru), 2) Bright (Madagascar), 3) Chocolatey (Ghana), and 4) Nutty (Ecuador).
Single origin, bean-to-bar chocolate.
Travels to plantations in Ecuador, Honduras, Philippines, and Tanzania, working closely with farmers to produce great cacao. Pays higher than Fair Trade prices to farmers and shares 10% of net profit of chocolate made from beans grown on their farms.
Two types: 1) Origin: single origin dark chocolate 2) CollaBARation: combines single origin Trinitario dark chocolate with flavours such as malted milk, licorice, and coffee.
Single origin (Caribbean Islands), certified organic, milk-free, bean-to-bar chocolate – roasted or raw.
Raw chocolate is made from non-roasted Criollo/Trinitario beans. Because the beans are not roasted, this chocolate is smoother and less bitter, allowing 10% more beans without the need for more sugar.
HempMilk Chocolate is raw, bean-to-bar, soy-free, nut-free, vegan, and dairy-free; uses only hemp milk not cow's milk.
All-natural, preservative-free, often organic ingredients from "esteemed farms and artisans throughout the USA".
High-quality chocolate combined with wildly creative flavours such as: Smokehouse BBQ Potato Chips (dark), New Orleans Chili (dark), Southern Hibiscus Peach (milk), Peanut Butter & Banana (milk), and Sweet Cherry Pecan (milk).
Created by "chocolate revolutionary" Katrina Markoff, founder of Vosges Haut-Chocolat.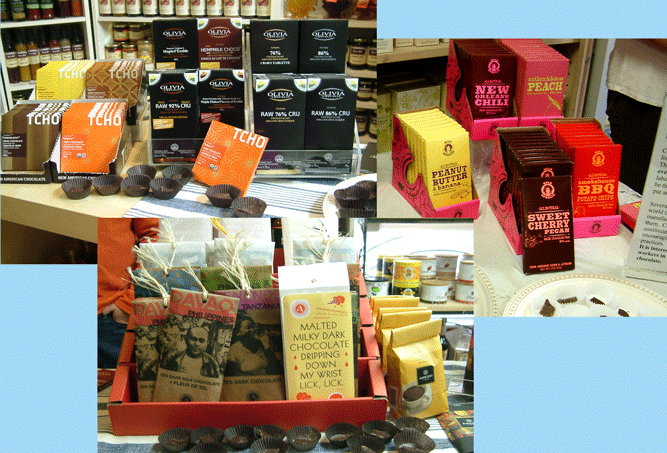 Address and contact information for The Shop For All Reasons can be found on my Grocery Store Directory.
Some information obtained from product website.