Look at what the Easter Bunny brought me! A heavenly Orange Chiffon Cake from the Hot Oven Bakery at Cloverdale Mall (for the very reasonable price of $10).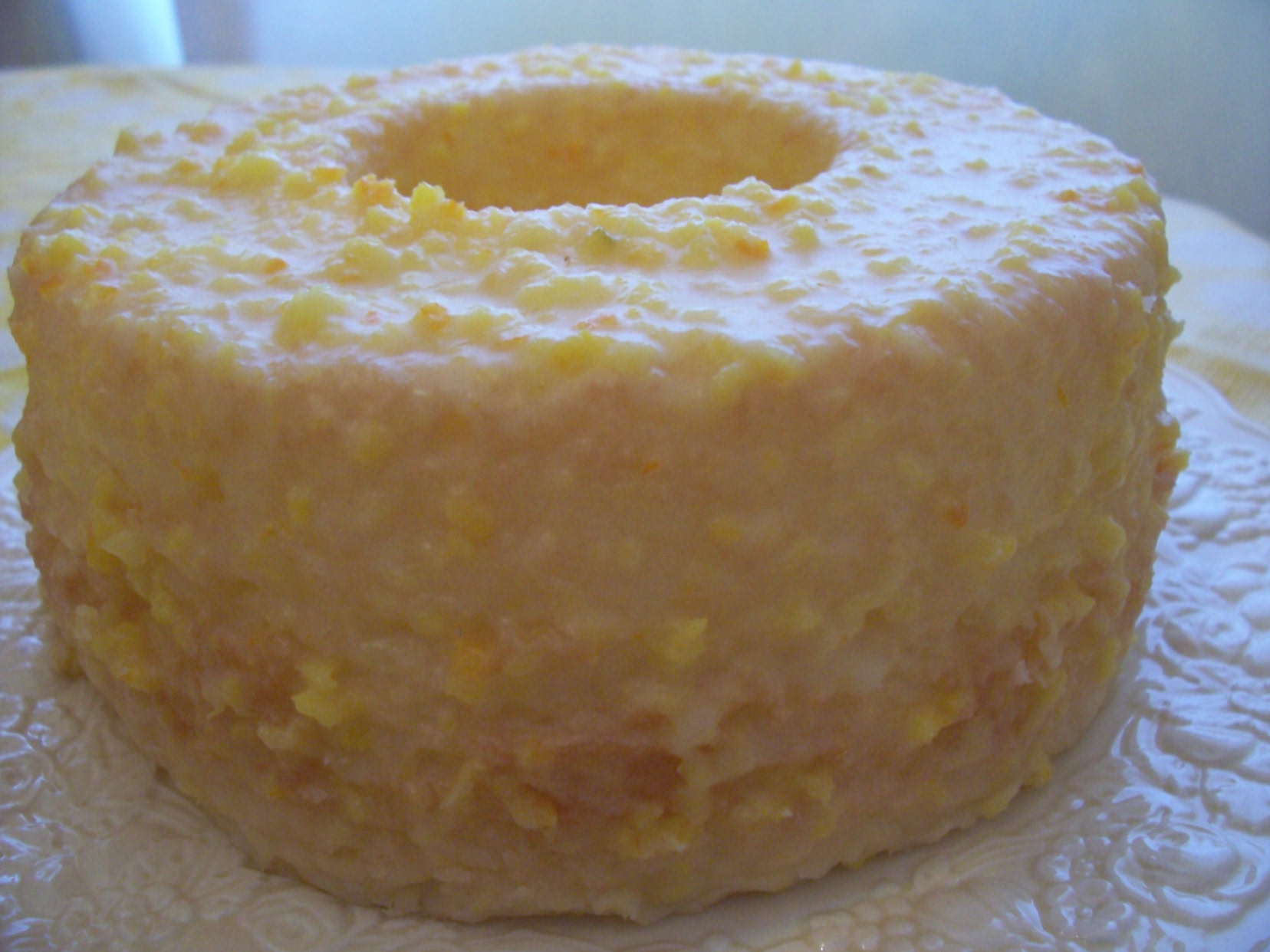 The soft-as-a-cloud cake is drenched in a delicious sugar glaze that is punctuated with bits of chewy orange zest.  The orange flavour is bright and real and balanced nicely by the sugar.
The cake stands pretty on its own but can be dressed up in a couple of ways. It would look lovely with edible flowers or candied violets.  Longo's carries edible flowers (in the herb section) but were all out of them the day I went.  I picked some pansies from my pot to give you an idea of how pretty the cake would look. The pot however is looking a little bleak.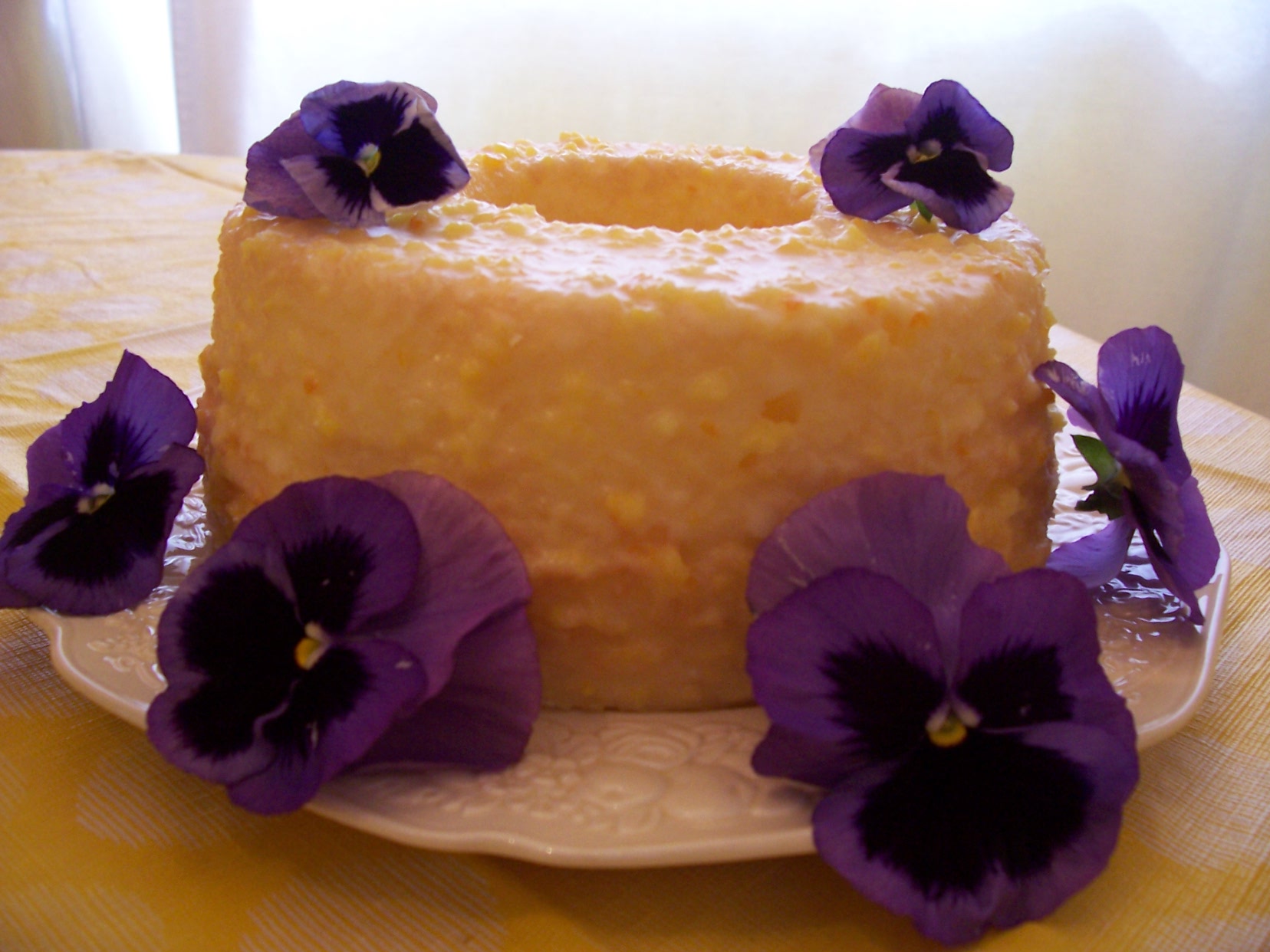 Imagine it wrapped up in cellophane, tied with colourful ribbon and given as a hostess gift! I think I will bring one, decorated with candied violets (if I can find them), to my church ladies' spring potluck. Wouldn't I just be the cat's meow? A tip of the old Easter bonnet to me for sure.
The cake is so flavourful that it can go easily from plate to mouth without anything accompanying it. My guests served it with orange sherbert which was yummy, especially for kids.  They say that Orange Creamsicle ice cream is good too .
It is oh so delightful served with a dollop of whipped cream and segmented orange chunks that have been dusted with cinnamon. Cara Cara oranges are really sweet and juicy right now and are on sale at Longo's for 99¢/lb or $2.18/kg.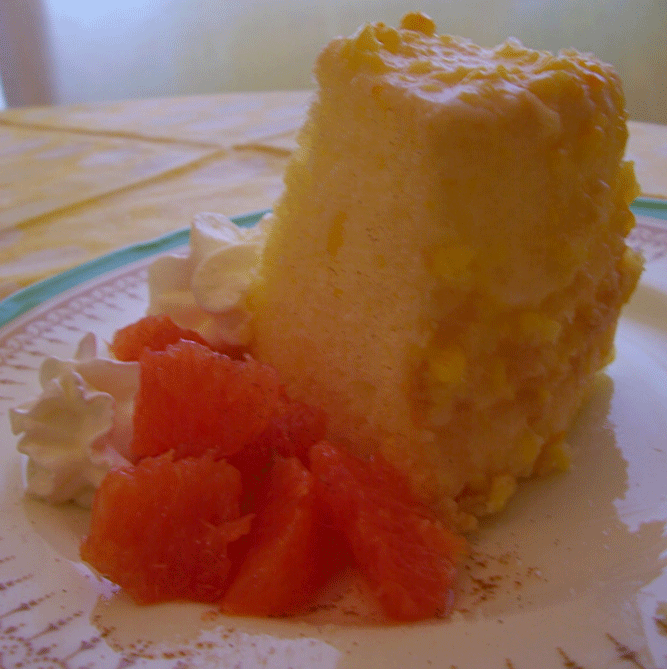 I have to thank my friend for introducing me to this cake. She has been buying it now for at least 10 years. She is wonderful at putting in the effort to make homemade desserts. But when she doesn't have time, the Hot Oven's Orange Chiffon Cake is her go-to-cake because it tastes homemade and yummy. It's gotten her through many a pinch on her way home from work. There's nothing else like it that brings her back time and time again.
I am sure that the ladies in the know in south Mississauga have been relying on the Hot Oven Bakery at Cloverdale Mall for years for bridge group, ladies' luncheons, showers and potlucks. But no matter where you live, it's worth the drive. The Hot Oven offers a wide range of quality baked goods, including delicious Sunflower Seed Bread ($3.85),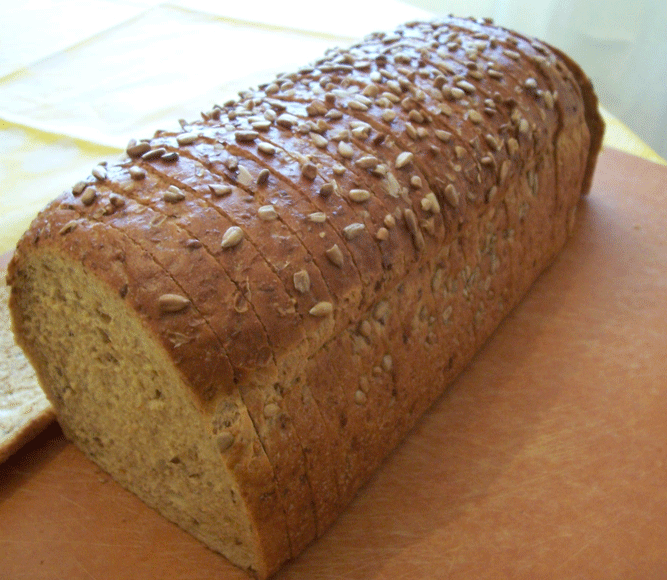 quiches both large ($13.25) and small ($3.25) such as this one, chocked full of broccoli and cheddar in a flaky, buttery crust,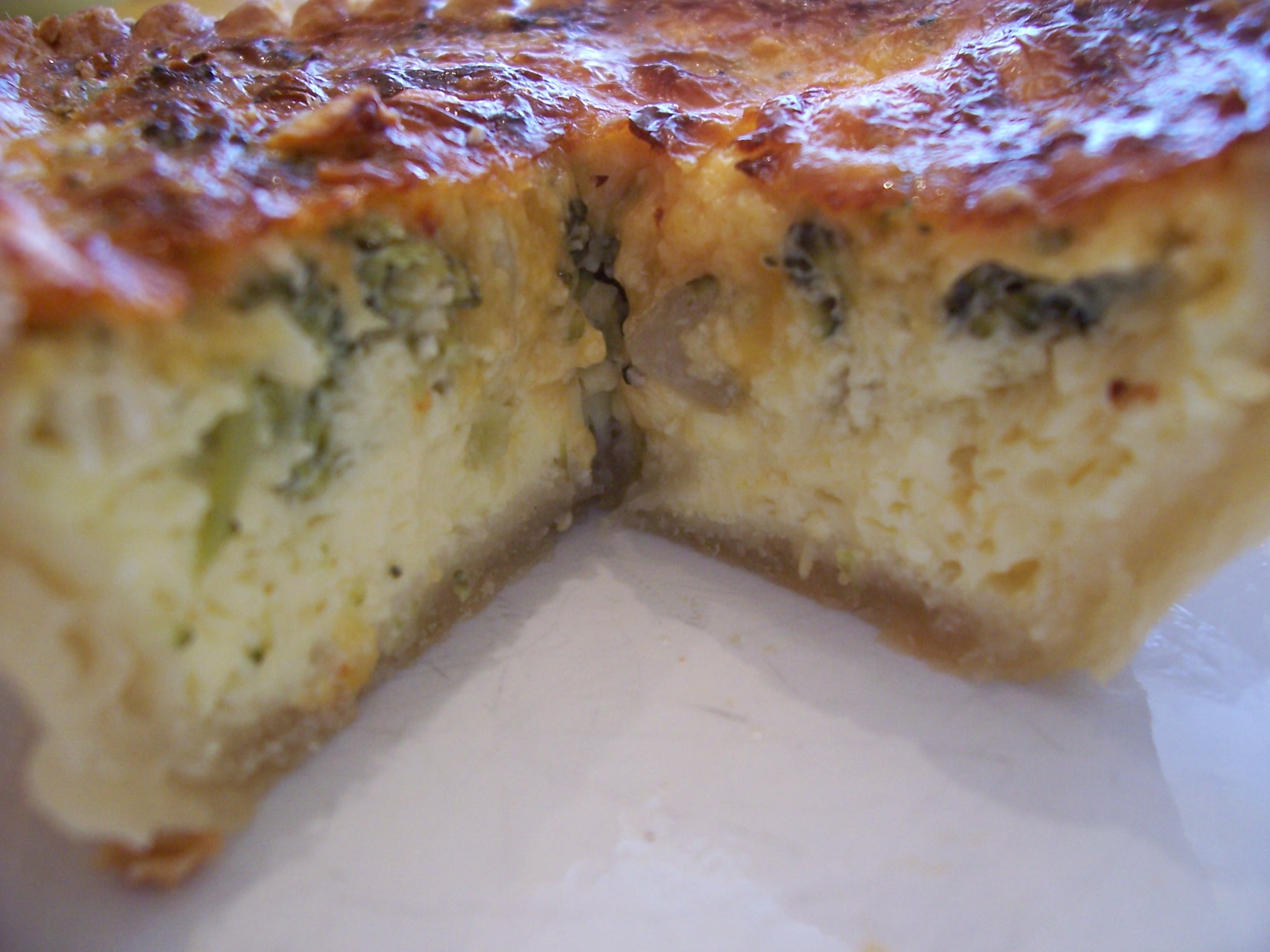 and fudgy brownies with intense chocolate flavour and real butter icing. It's calling you.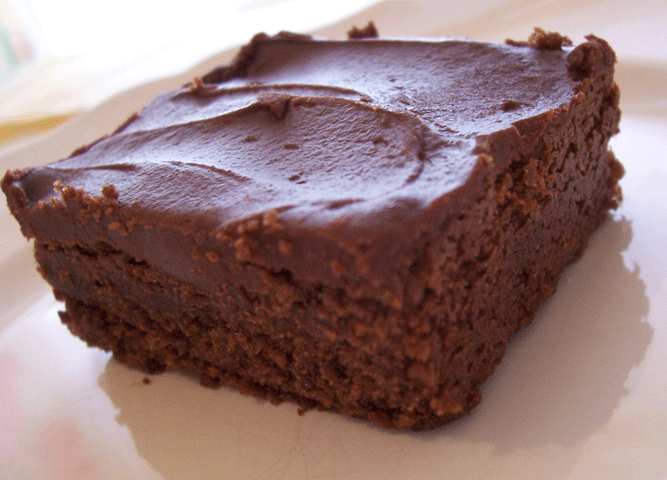 Tempting, isn't it? It was so hard to wrap up the rest of the brownies from the Family Brownie Tray ($5.50) and store them in the freezer.
The mac & cheese, lasagna and perogies all looked delicious but I had to stop somewhere!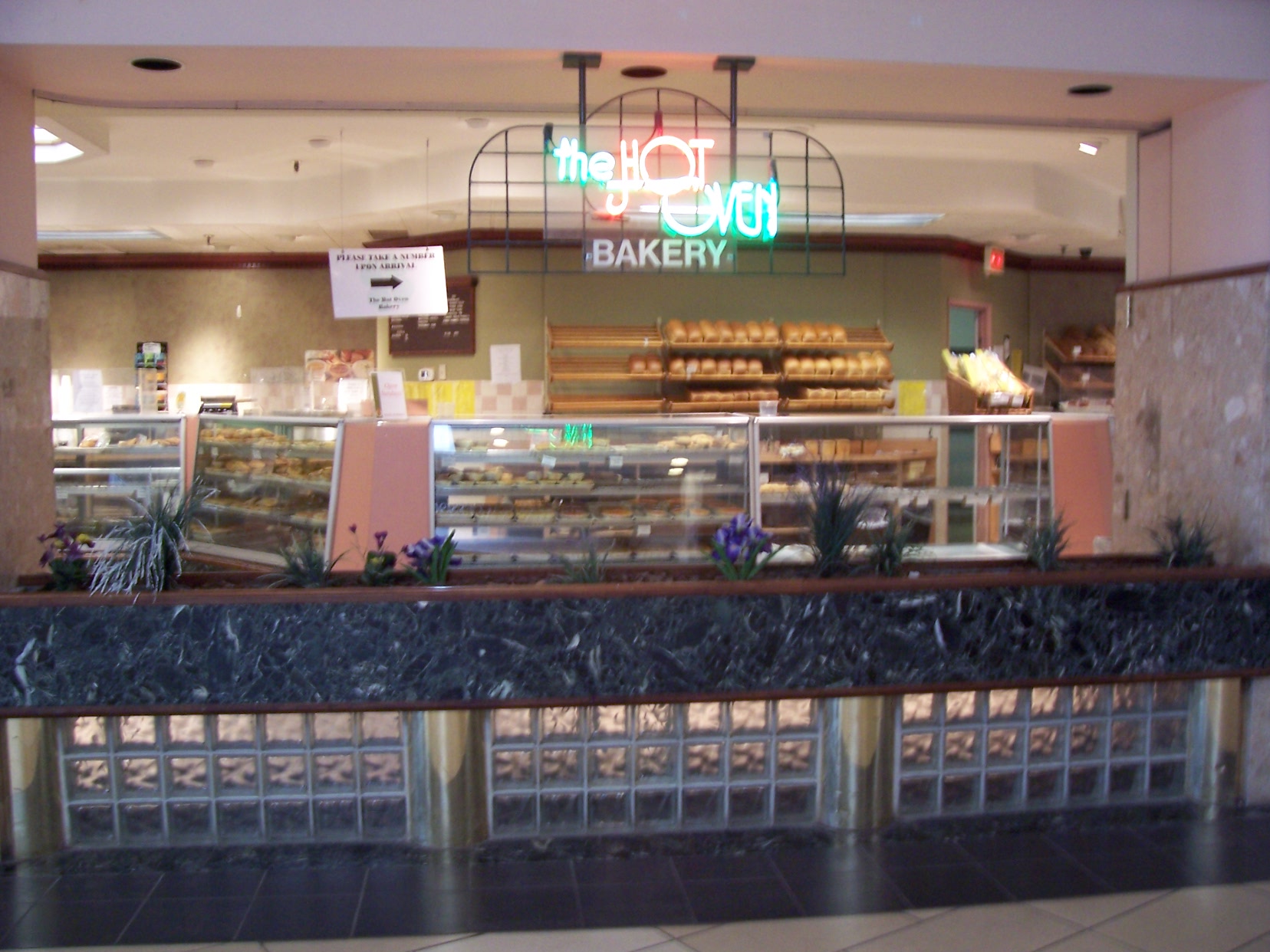 The Hot Oven Bakery, located right beside Winners at the south end of Cloverdale Mall, has been in its original location since 1957.  My friend and I have been BFFs for almost as long (not quite). On the morning I went, the bakery was almost empty when I walked in but a line started to form quickly. My friend went on the Thursday before Easter weekend and there was a huge line. You see that sign in the photo to take a number as soon as you arrive? Good advice that you must heed.  But whatever the length of the line, it is definitely worth the wait. The ladies that I spoke to, who have been loyal customers for decades, told me that everything was good.
There are three other Toronto locations that have opened up which are all owned by the same owner. These locations appear on the company website but even though the Cloverdale location has the same owner, it isn't listed on the website. But don't worry about that. Just go, take a number and line up the old fashioned way and go home with an armful of delicious home-baked goods made from high quality ingredients and sold at reasonable prices.
Hot Oven Bakery
Cloverdale Mall
250 The East Mall
Etobicoke ON  M9B 3Y8 416-233-6771   Regular Hours Monday – Friday: 8:00 a.m. to 8:45 p.m. Saturday: 8:00 a.m. to 5:45 p.m. Sunday: 12:00 p.m. to 4:45 p.m.  
www.hotovenbakery.com
Other locations:
Roncesvalles
177 Roncesvalles Avenue,
Toronto, ON, M6R 2L5
(416) 588-8222   Regular Hours Monday – Friday: 7am to 7pm
Saturday: 7am to 6pm
Sunday: 9am to 5pm  
Kingsway
2974 Bloor Street West,
Etobicoke, ON, M8X 1B9
(416) 236-3629   Regular Hours Monday – Friday: 7am to 7pm
Saturday: 7am to 6pm
Sunday: 9am to 5pm  
Bloor West Village
2226 Bloor Street West,
Toronto, ON, M6S 1N6
(416) 762-3036   Regular Hours Monday – Friday: 7am to 7pm
Saturday: 7am to 6pm Sunday: 8am to 5pm