My life lessons have taught me to not fret over the weather and to appreciate every day, no matter how grey and how cold. I can't say that I welcomed those big fat flakes of snow this morning but I did grab the bull by the horns (or rather, the dog by the collar). Like a true Canadian, I took Buddy for an invigorating walk in the frigid wind. I felt so good afterwards. Then I decided to post this lovely little recipe to help us THINK GREEN and THINK SPRING.
My friend contributed this delightful salad to our church potluck dinner. Olived it so much, I asked for the recipe. It's as cheery as the first songbird of spring. Healthy baby spinach greens, crunchy apples and nuts, and chewy raisins are dressed in an interesting vinaigrette that has just a hint of warm, golden curry flavour.
I adjusted the ratio of vinegar to oil to suit our tastes (we prefer a 1 to 3 ratio). Feel free to adjust it to your own liking, as long as you end up with a total of 1 cup of oil and vinegar combined. The original recipe called for 2 lbs. of spinach but I found that one 454 g /16 oz. package of baby spinach was plenty. I made the full recipe and divided the vinaigrette and dressing in half to use another day. We are big on salad these days and are eating it for lunch and dinner…maybe even breakfast. That would make my trainer happy!
I use Sumo Roasted Black and White Sesame Seeds from Bento Nouveau (available at Longo's) because they are already roasted. I keep them in my fridge and sprinkle them on asparagus, salad, avocado chunks, stir fries, etc. If you can't find them, just toast raw sesame seeds for a few moments in a dry skillet over medium heat, tossing them frequently in the pan, until golden.
Pura vida, Ev. Thanks for the recipe!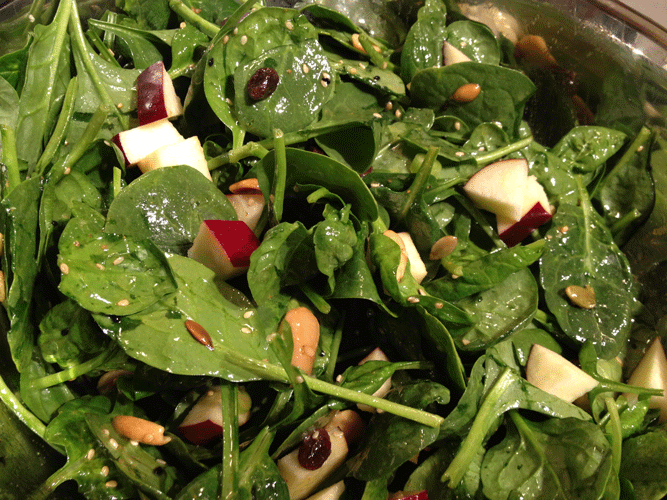 THINK SPRING! CURRIED SPINACH SALAD
Serves 12 (may be reduced by half)
Salad Ingredients:
454 g / 16 oz package Longo's Organic Baby Spinach, washed carefully and dried gently but thoroughly
1/3 cup dry roasted, salted peanuts
1/3 cup shelled, roasted pumpkin seeds
1/2 cup raisins
1/2 cup green onions, thinly sliced
2 tablespoons Sumo Roasted Black and White Sesame Seeds from Bento Nouveau
2 or 3 apples
Curried Dressing Ingredients:
1/4 cup white wine vinegar
1 tablespoon Major Grey Mango Chutney, finely chopped
1 teaspoon curry powder
1 teaspoon salt
1 teaspoon dry ground mustard
1 teaspoon honey
Few drops Tabasco sauce
3/4 cup salad oil
Dressing Directions:
In a medium bowl, whisk together white wine vinegar, chutney, curry powder, salt, dry mustard, honey, and hot sauce. Gradually add oil in a thin steady stream, beating with a wire whisk until blended. Cover and let stand at room temperature for 2 hours, to allow the flavours to mellow together. Whisk again just before dressing salad.
Salad Directions:
Put raisins in a small bowl and cover with boiling water. Steep for 10 minutes, then drain thoroughly. Combine spinach, peanuts, pumpkin seeds, raisins, green onions, and sesame seeds in a large bowl. Just before serving, peel, core and dice the apples into bite-sized chunks. Add to the salad. Pour just enough dressing over the salad to coat leaves lightly, then toss gently but thoroughly. Serve immediately.