One fall, after taking his daughters on a lovely trip to Provence in the south of France, my father requested a Provençal-style Thanksgiving dinner. After such a memorable trip, we were more than happy to oblige. We spread out the sunny Provençal tablecloths that we bought at the market in Uzès. Then we laid out a delicious feast of roast turkey (and called it Dinde Rôtie), Potatoes Savoyard (Jane Rodmell's Cottage Life's Summer Weekends Cookbook), Cauliflower Gratin (Ina Garten's Barefoot in Paris), Sweet Potato & Sage Brûlée (Lucy Waverman, Food & Drink Holiday 2007), and these pretty stuffed peppers, inspired by Laura Calder's Tomato-stuffed Peppers (French Food at Home).  Colourful, flavourful, and oh so darling, they pair nicely with a glass of wine and a Provençal state of mind.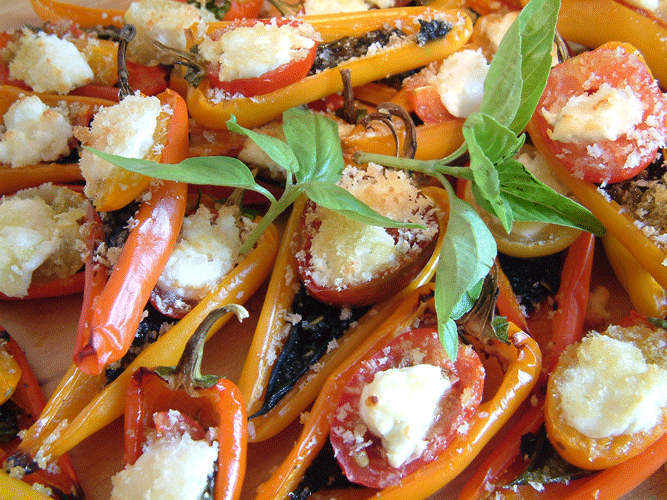 Provençal Stuffed Baby Peppers
Makes about 36 halves
The brainchild behind this recipe is Laura Calder. I changed her recipe slightly, using baby peppers and cherry tomatoes instead of big ones, my olive purée instead of the stronger tasting tapenade, and added goat cheese for creaminess and a touch of panko bread crumbs for a slight crunch. Make the olive purée ahead of time, so there is less to do at assembly time.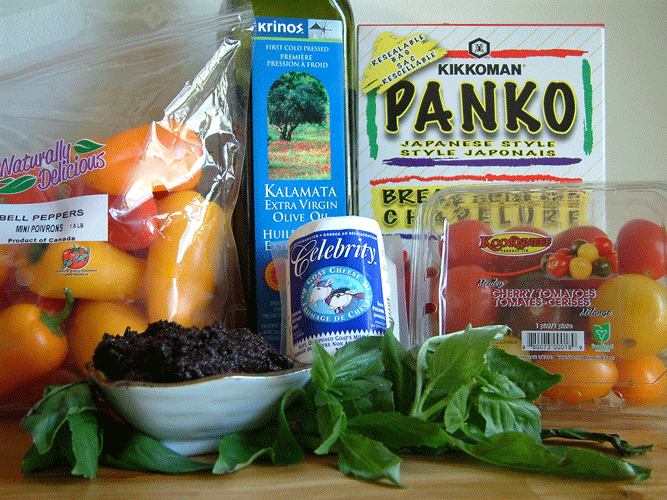 Ingredients:
1 ½ lbs. mini sweet bell peppers, in a colourful medley of orange, yellow, red
1 pint cherry/grape tomatoes in a colourful medley of orange, yellow, red
1 bunch of fresh basil, stems removed
¼ cup Black Olive Purée (see recipe below)
1 small package (130 g) soft, unripened chèvre (goat's milk cheese)
¼ cup panko bread crumbs
⅛ cup extra virgin olive oil
Sea salt
Directions:
Preheat oven to 375°F.
Cut each pepper in half, lengthwise from stem to tip, leaving the stems intact on both halves; remove and discard the seeds. Place pepper halves, cut side up, on a parchment-lined, rimmed baking sheet; roast until the peppers are slightly tender but still hold their shape, about 10 to 15 minutes. Remove pan from the oven; let peppers cool slightly but leave them on the tray and leave the oven on at 375°F.
Meanwhile, cut the tomatoes in half, lengthwise; remove and discard seeds and pulp. Turn halves upside down to drain while peppers are roasting.
When step two is completed, place 1 large basil leaf or two smaller basil leaves in each pepper half.
Place 1/8 teaspoon of olive purée on top of basil; carefully spread out the purée a little.
Place a tomato half, cut side up, on top of the olive purée, choosing a contrasting-coloured tomato for each pepper. If tomato halves are too big, cut them in half lengthwise again.
Place ½ teaspoon of goat cheese in each tomato half.
Repeat with remaining peppers.
Sprinkle the panko bread crumbs evenly over the top of the peppers.
Drizzle the peppers evenly with olive oil.
Return pan to the oven and bake until cheese is soft and bread crumbs are lightly golden, about 10 minutes. Sprinkle lightly with sea salt, to taste. Serve warm.
Black Olive Purée
Makes about 1 ½ cups.
Inspired by a Patricia Wells recipe (Olive Purée from Nyons, The Provence Cookbook), this spread is similar to tapenade but doesn't include the strong flavours of capers, anchovies, and mustard which I find overpowering. Here, the olives are the star. I use thyme and rosemary (instead of herbes de Provence) and I throw in a garlic clove just for good measure. Oh, wouldn't I love to get my hands on the Nyons olives that inspired Ms. Wells to create her recipe! Instead, I use the wrinkly but meaty, sun-dried black olives (such as the flavourful, sun-dried Moroccan olives that Longo's currently carries in their olive bar). Whatever you do, don't use totally flavorless canned black olives. Use this spread sparingly because it is quite salty.
Ingredients:
2 cups best-quality sun-dried black olives, pitted
1 teaspoon dried thyme
1 teaspoon dried rosemary
1 clove of garlic
2 teaspoon extra virgin olive oil, if required
Directions:
Combine all of the ingredients, except for the oil, in a food processor or blender. Blend to a thick paste; if too thick, add oil and blend again.
Serve immediately or transfer to an airtight container and cover; store in refrigerator for a few days or in the freezer for longer storage. Defrost before serving. Serve chilled or at room temperature.