I'm making vegetables the star of my plate by preparing them with a little extra love instead of treating them as an afterthought. I'll either give them a leading role across half of my dinner plate or serve them solo in individual courses – as the French do – and give them centre stage. It is so satisfying to be served one or two carefully prepared vegetable courses (salads, soups, or cooked vegetables), followed by a smaller main dish.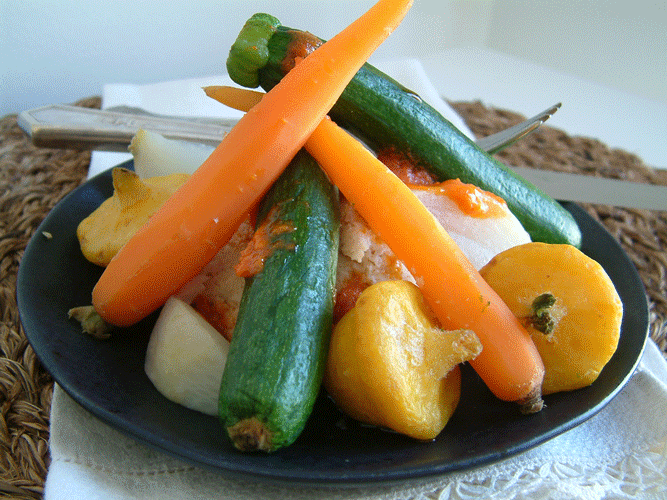 You don't have to serve my Mashed Caramelized Cauliflower and Steamed Vegetables with Flavoured Butter together but I think they make a nicely composed plate. The cauliflower steps in for mashed potatoes and is mounded on the plate first; the steamed veggies are stacked artfully around the cauliflower and then adorned with fine sea salt and a tiny dollop of flavoured butter.
Make the flavoured butter first, ideally well ahead of time (you can even freeze it for longer storage). Prep the cauliflower and mixed vegetables earlier in the day. When you are ready to cook the vegetables, prepare the cauliflower first and keep it warm; then steam the vegetables. You can even make the cauliflower ahead and reheat it gently in the microwave just before serving; and you can make the steamed veggies ahead if you undercook them slightly, then later sauté them in the flavoured butter just until heated through – but they only take up to 8 minutes to steam, making them easy to do last minute.
Mashed Caramelized Cauliflower
Serves 4
The key to mashed cauliflower is to add as little liquid as possible. Roasting the cauliflower in the oven instead of boiling it prevents the cauliflower from becoming waterlogged and adds a delicious caramelized flavour. You can play with the flavours of this basic mash when you are puréeing the cauliflower, by adding curry powder, grated parmesan, or whatever you like to pair with cauliflower.
Ingredients:
1 head of cauliflower
1 tablespoon olive oil
½ teaspoon coarse salt
1 tablespoon butter, softened
3 tablespoons or more of milk or cream, warmed
Freshly ground black pepper, to taste
Directions:
Preheat oven to 375°F. Remove and discard the leaves and large centre stalk of the cauliflower; cut the remaining cauliflower into evenly-sized florets; wash and then thoroughly drain.
Dump the cauliflower (including the crumbly bits) onto a large, parchment-lined, rimmed baking sheet. Add oil and salt; toss with your hands to coat evenly; spread out evenly in a single layer. Roast for about 40 minutes, until the largest pieces are very tender and cauliflower is golden, turning once after 25 minutes.
Transfer cauliflower to the large bowl of a food processor. Add butter. Purée until smooth, stopping to scrape down sides of bowl with a rubber spatula when necessary, and adding milk or cream slowly, only a bit at a time and just enough to get the consistency you want. Season to taste with freshly ground black pepper and additional salt, if necessary. Serve hot.
If making ahead, transfer to an airtight container, cover, and store in the refrigerator overnight. When ready to serve, reheat gently in the microwave, stirring occasionally, until hot throughout.
Steamed Mixed Vegetables with Flavoured Butter
Serves 4
The butter is your palette and the vegetables are your canvas; choose whatever vegetables and butter flavouring combinations that please you most.
Curried Tomato Clementine Butter
Makes ¼ cup
This recipe is just a suggestion of how you can play around with different butter flavourings; the possibilities are endless – perhaps lemon and fresh thyme or lime and fresh basil (omit the curry powder, tomato paste, and clementine zest)?
Ingredients:
¼ cup unsalted butter, softened
Pinch of sugar
Pinch of salt
⅛ teaspoon Arvinda's curry powder
1 tablespoon tomato paste
Finely grated zest of 1 clementine (avoid white pith)
Directions:
Place all ingredients in a small bowl; mash with a fork, stirring to mix thoroughly.
Place on a small sheet of parchment paper; roll into log, twisting both ends tightly to seal. Store in the refrigerator until ready to use.
Slice or shave off the desired amount of butter onto freshly steamed vegetables, grilled fish, or roasted chicken. Any unused portions can be stored in parchment paper, enclosed in a resealable freezer bag, and placed in the freezer for longer storage.
Steamed Mixed Vegetables
Serves 4
Choose whatever combination of colourful, seasonal vegetables you like; again the possibilities are nearly endless. My local Longo's carries baby Sunburst squash, baby zucchini, baby turnips, and real baby carrots (Harvest Fresh Sweet Nantes Carrots and not those bagged, pared down "baby" carrots). If you can't find baby veggies, just cut whole veggies into smaller portions.
If you have a stacked steamer, place the veggies that take longest to cook on the bottom level and those that cook more quickly on the top level. I only have a single steamer, so I place them in groups all in one steamer. Either way, watch them carefully and remove each group of vegetables as soon as they are cooked to your liking.
Ingredients:
Salt for water
3 baby turnips, cut into eighths
6 baby carrots (comments in intro above), longer ones cut half
200 g baby Sunburst squash
200 g baby green zucchini
Flavoured butter (see recipe above)
Fine sea salt
Directions:
In a large pot, bring salted water to a boil; reduce to a simmer. Arrange vegetables in groups in a steamer placed over the simmering water; cover and steam for 5 to 8 minutes, checking carefully and removing the vegetables as soon as they become tender (some will be ready before others).
Serve hot, seasoned to taste with fine sea salt and adorned with flavoured butter.