I love to do Christmas to the nines, with silver bells and all the trimmings. My best friend shares my Martha Stewart-ish passion for Christmas. We start every season with big dreams but as Christmas Day approaches, find ourselves more stressed with less and less time, until we are gritting our teeth while peeling potatoes to It's the Most Wonderful Time of the Year and feeling like pulling our hair out while fiddling with fancy last minute fixings.
As a solution, we started a tradition of gently nudging each other to get an early start on Christmas, so when it is time to celebrate we can step out of our kitchens and enjoy it with our families. Beginning in November, we send each other a flutter of quick emails like: Christmas cards ordered CHECK, outdoor lights up CHECK, cookie dough frozen CHECK. What starts off as encouragement to prepare as much as possible in advance, often ends up in a hilarious race of merrily checking off our own list while sending out cheeky CHECKS if the other has fallen behind.
From now until Christmas, I'd like to share some of my Christmas survival tips with you: suggestions to make your holiday entertaining well-planned, stress-free, and delicious with make-ahead, easy-assemble, or store-bought ideas. Think of them as little gifts from your freezer or pantry to you, with love from Olive.
Let's get a head start on Christmas dinner this week with a freezer-friendly mashed potato casserole and sweet-and-sour cabbage that you can make now and freeze. All you will need to prepare on the day of your feast is turkey, stuffing (I love My Mom's Sage & Onion Bread Stuffing), perhaps another family-favourite vegetable dish, and gravy.
Because we have such a big clan, my family keeps our feasts as simple as possible. Here is my tip for the gravy (but don't tell anybody): homemade gravy from Longo's turkey kits. The gravy is sold separately and tastes homemade. I don't have to fuss at the last minute and I know it's going to be good. As soon as the kits come out, I buy the gravy individually and freeze it. I just defrost the night before serving and reheat gently the next day. Sometimes I add a little white wine, just to make it extra special. After December 19th, the individual side dishes (including the gravy) and complete turkey kits will be available in all Longo's stores. If you want to pre-order the entire turkey kit (includes pre-cooked turkey, butternut squash, herbed mash potatoes, multigrain rice stuffing, cranberry sauce, and gravy – all just requiring reheating) for you feast, you need to place your order by 5 p.m. December 18, 2013.
Christmas potatoes done CHECK. Christmas cabbage done CHECK.
Please visit my Grocery Store Directory for Longo's locations.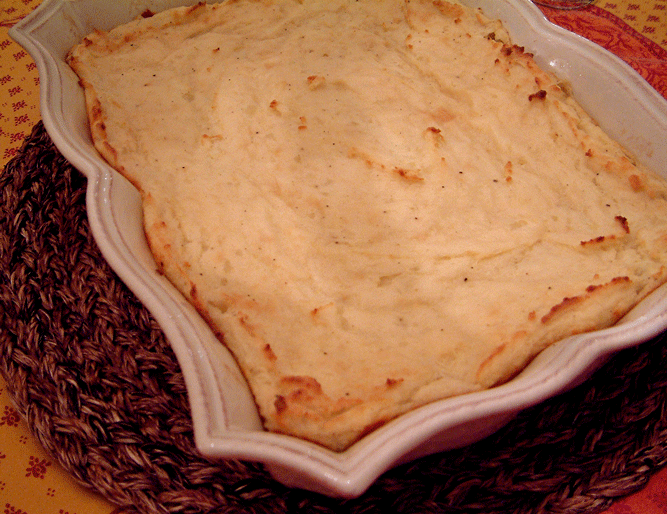 Aunt Connie's Swedish Potatoes
Serves 8 to 10
A long-time family favourite (just like my Aunt Connie), we serve these make-ahead potatoes at every Thanksgiving or Christmas family feast. This time-tested recipe has been around for ages but did you know you can freeze it for up to 3 months? Don't tell my family, but I make a double batch of these just before Thanksgiving and freeze a batch in throwaway aluminum foil pans to have ready for Christmas dinner. You'll be so happy to pop these out of the freezer and then pop the tray in recycling after the feast is over. Take the potatoes out of the freezer two days before serving and defrost in the refrigerator. Bake them while the turkey has a good long rest and then gets carved up.
My Aunt Connie's version calls for a crumb topping made with fine bread crumbs and melted butter, but I omit the crumb topping so I can stir the potatoes as they are warming up in the oven.
Ingredients:
6 medium-sized russet (baking) potatoes, peeled and cut into sixteenths
2 tablespoons butter, cubed
¾ cup dairy sour cream
1 package (125g) cream cheese, cubed, softened to room temperature
1 ½ teaspoons onion salt
¼ teaspoon ground white pepper or freshly ground black pepper
½ teaspoon salt
Directions:
Place potatoes in a large pot; cover with cold, salted water; bring to a boil, then adjust heat to medium to maintain a gentle boil; cook uncovered, until potatoes are very tender, about 15 minutes. Immediately drain into a colander placed in the sink. Return potatoes to pot and place pot back over very low heat for a few moments, shaking constantly, until all water evaporates. Remove pot from heat.
Add butter to potatoes; mash with a potato masher, until potatoes are smooth and lump-free. Fold in remaining ingredients; beat gently with a mixer, just until all ingredients are thoroughly incorporated.
If freezing, turn potatoes into a large, well-buttered, disposable aluminum-foil baking dish. Let cool completely in the fridge; then place a sheet of parchment paper over top of potatoes; double wrap with aluminum foil, sealing securely; label with baking instructions; freeze up to 3 months. Remove wrapping and parchment prior to baking. Defrost in refrigerator for two days before serving. Bake uncovered, in the centre of a preheated 350°F oven, just until hot throughout, about 30 minutes or longer (stir once halfway through baking). Watch carefully after 30 minutes.
If baking immediately after preparing, turn potatoes into a large, well-buttered casserole. Bake uncovered, in the centre of a preheated 350°F oven, just until hot throughout, about 30 minutes or longer (stir once halfway through baking). Watch carefully after 30 minutes. Note: prepared potatoes can be stored, covered in the fridge, for up to two days prior to baking. When ready to bake, bring casserole to room temperature before placing in a hot oven.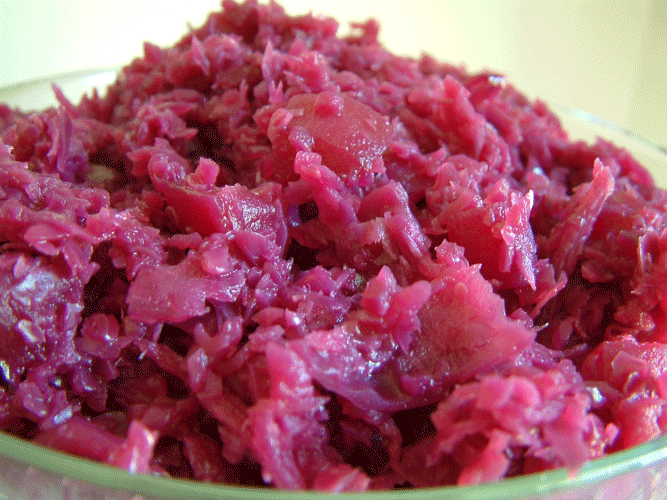 Jeff's Sweet-Sour Purple Cabbage with Apples
Makes about 9 cups
Adapted from Sweet-and-Sour Red Cabbage with Apples by Johanna Burkhard (The Best Freezer Cookbook by Jan Main).
This sweet and sour cabbage recipe has always been a favourite of both my brother and my son. I just gave a bowl to my son and he said "Yo, cabbage for breakfast is awesome". I love it because it's a healthy and delicious way to easily add a pop of colour to a holiday plate – the purple looks so pretty beside green beans, broccoli, carrots, or squash.
It takes some work to finely shred the cabbage and prepare the apples and onions but it freezes really well for 3 months, so I make a double batch of this recipe at Thanksgiving and freeze the second batch for our Christmas feast. Or I freeze in smaller containers to use throughout the winter. Defrost in the fridge overnight and reheat gently on the stove. The flavours meld together with the second simmer.
If you are able to finely shred the cabbage in a food processor, cook this in one large pot. It will almost fill the pot but will cook down. Before I used a food-processor to shred my cabbage, I shredded it by hand; the cabbage wasn't as fine and took longer to cook, so I had to divide one recipe between two large pots to speed the cooking – the end result was still delicious.
The recipe is from a cookbook called The Best Freezer Cookbook by Jan Main. It is the best freezer cookbook I have ever had my hands on – full of good freezing advice and comforting recipes, including a good Veggie, Beef & Pasta Bake, a yummy Chicken Tetrazzini, as well as some tempting soups and special occasion desserts I haven't tried yet. I have changed the Sweet-and-Sour Red Cabbage with Apples recipe slightly, adding more apples, a touch more sugar, and using white wine and apple cider vinegar instead of red wine and red wine vinegar. It's lovely with the red wine and the colour is a bit deeper, but I don't drink red wine and hate wasting the rest of the bottle. I've also arranged the steps in a way that will keep your apples from browning before they hit the pot.
Equipment Notes:
Requires food processor and 1 large pot or two large pots
Ingredients:
1 medium purple cabbage
2 small yellow cooking onions
6 apples
2 tablespoons butter
1 cup chicken stock
½ cup white wine (or red wine)
1/3 cup apple cider vinegar (or red wine vinegar)
1/3 cup plus 1 tablespoon packed brown sugar
1 bay leaf
1 teaspoon salt
¼ teaspoon ground cinnamon
¼ teaspoon freshly ground black pepper
Tiny pinch ground cloves
1 ½ teaspoons cornstarch
1 tablespoon cold water
Directions:
Finely shred cabbage and measure out exactly 10 cups to use for this recipe; set aside (use remainder in a salad). Finely chop onions; set aside. Peel, core, and dice apples.
In a large pot, melt butter over medium heat. Add onions and apples; sauté, stirring frequently, until softened, about 10 minutes.
Add stock, wine, vinegar, sugar, bay leaf, salt, cinnamon, pepper, and cloves. Bring to a boil, and then stir in cabbage. Reduce heat to medium-low, cover, and simmer, stirring occasionally, until cabbage is very tender, about 1 hour. Taste and adjust seasonings, if desired.
In a small bowl, combine cornstarch with cold water; blend well, then stir into cabbage. Cook until sauce has thickened slightly, about 3 minutes. Remove and discard bay leaf. Serve hot.
If freezing, let cool then divide into airtight freezer containers or resealable freezer bags, label, and freeze up to 3 months. Defrost overnight in refrigerator. Reheat gently on stove.