I have a deep appreciation for good corn, rooted in the fields of Kent County that surround my mother's childhood hometown of Chatham, Ontario.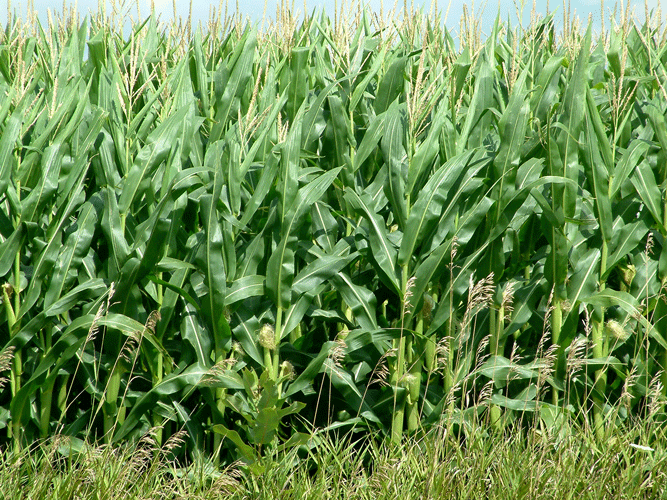 I was raised to worship Kent County corn. My mom fondly recounted how her sister Jean would come home from work with an armful of the precious cobs, freshly picked and so sweet. Dinner that night would be a corn feast, honouring cob after sweet cob of golden summer.
The key to being crazy about corn is to buy the very best locally grown corn you can find; then cook it and eat it as soon as possible on the day you buy it. When you bring it home from the farm market, get it straight into the fridge and don't husk it until just before you plan to boil it. Then boil it in plenty of fresh water without any additions: once the water is boiling, cook for 3 to 4 minutes for young cobs and 5 to 7 minutes for mature cobs.
Where can we find the best corn in the Peel Halton area? My answer is Allison's Farm Market in Georgetown, Ontario.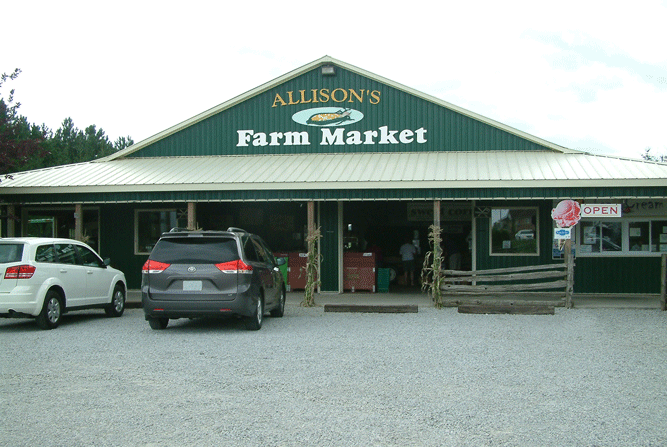 The first time I tasted Allison's tender, sweet corn I was hooked-at-hello. Olive Allison's Farm Market corn so much that when the local corn season arrives, I make the journey to Georgetown from Streetsville. This year, I was so eager that I showed up a bit too early, LOL. Next year, I'll call first to find out when the corn will be coming in from the fields.
Bob Allison was kind enough to invite me onto his corn fields recently, to teach me a bit about what makes his corn taste especially good.
The Allisons have been farming their land since 1965 and have been growing sweet corn since about 1975. They started out with an honesty box on their front yard and have grown into a permanent farm market where they sell their homegrown corn and pumpkins, as well as a bounty of fresh, local fruits and vegetables they bring in from other farms.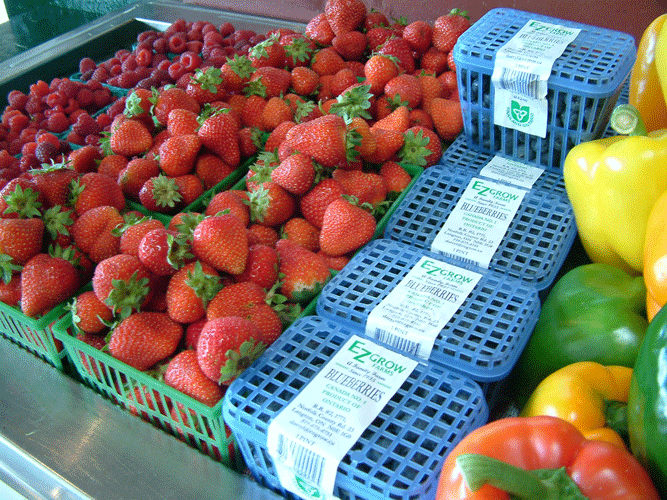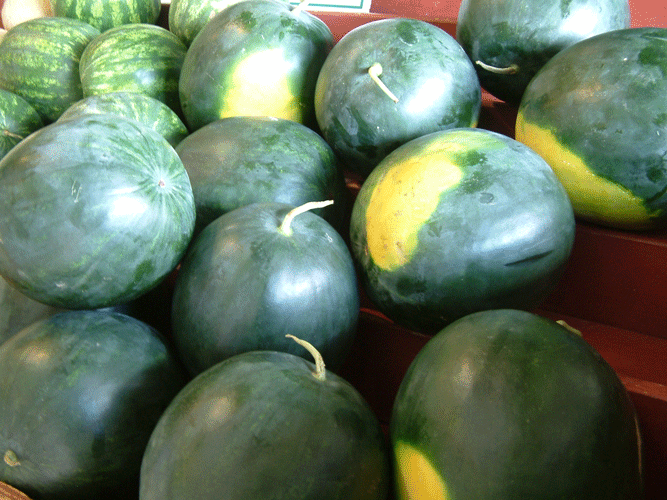 The Allison's grow Gourmet Sweet supersweet corn: 1 acre of yellow corn and about 30 acres of bi-colour (Peaches & Cream) corn. Colour is just visual and doesn't affect the taste of the corn. They plant a new patch of corn about every three days. The last patch is planted in early July and ripens the end of September. Bob's crew looks for ripe ears on the stalks and hand picks them.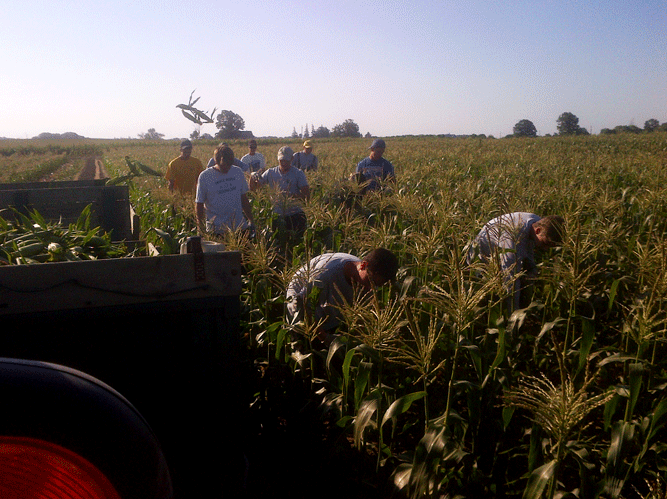 As soon as the corn is picked, its sugar starts to turn to starch. The hotter the weather, the faster the corn will deteriorate. That's why Bob and his crew take extra special care to chill the corn right after it is picked. You will notice the difference between Bob's corn and grocery store corn, which can get left out in warmer temperatures for a week.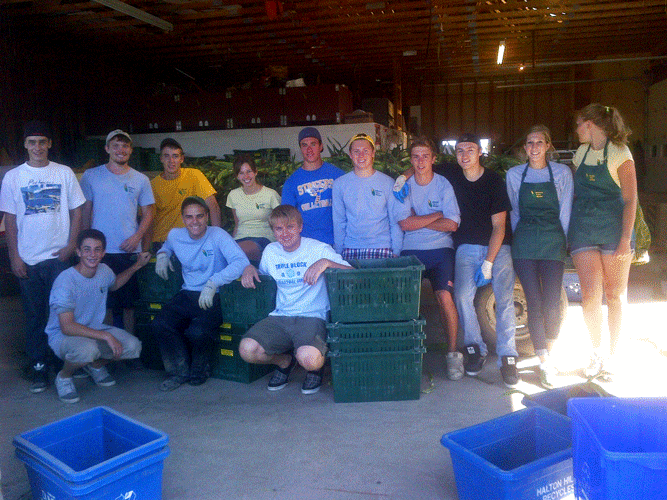 When selecting corn, look for big cobs with moist, dark green husks and moist, stiff and dark silk.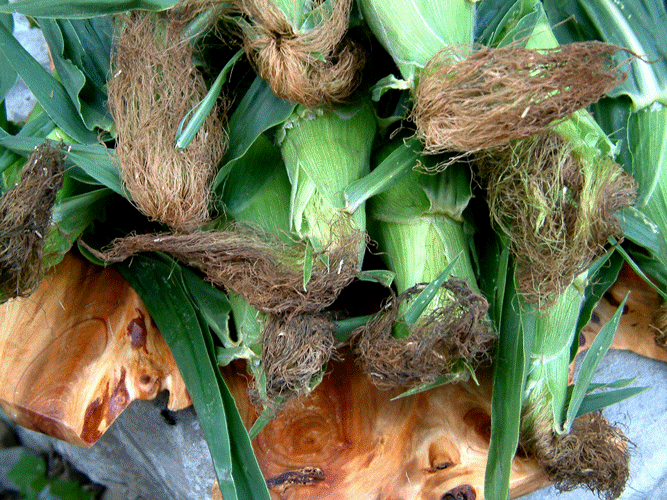 All of these beautiful ears of corn that I bought from Allison's Farm Market were perfect.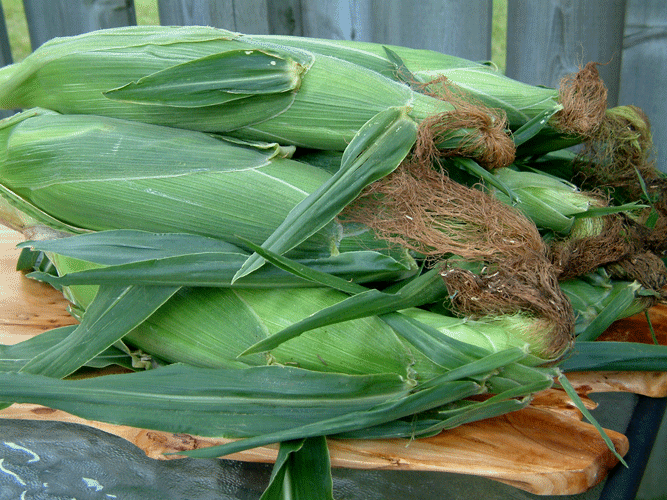 Please don't buy already husked, cello wrapped, foam tray packets of corn. Please buy your corn locally and fresh, the day that you want to use it, ideally from a farm market. If you are a corn worshiper like me, it's well worth the lovely country drive to Allison's Farm Market in Georgetown. I often drive to Georgetown just to get their corn but come back with a bounty of fresh summer fruits and vegetables.
The Allisons also have a stand at Georgetown Farmers' Market – so if you go on a Saturday morning, you can enjoy this lovely, vibrant market that runs along Main Street in historic downtown Georgetown.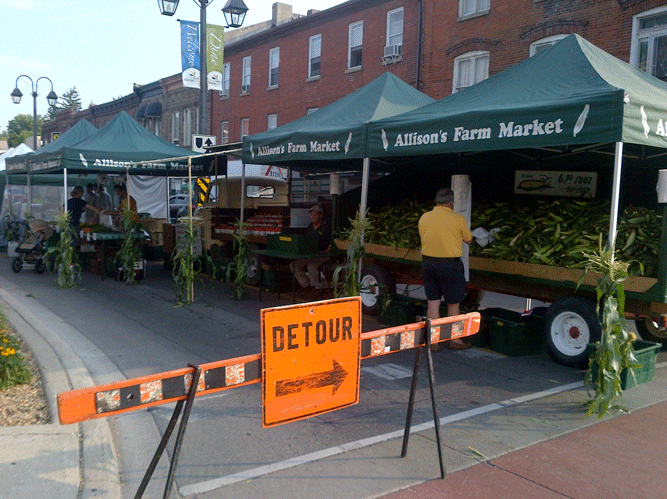 Allison's corn is so delicious that (dare I say it?) it is even better than the Kent County corn that my Chatham cousins brought to our cottage last week. Perhaps I overcooked the Kent County corn? I am grasping at corn stalks here, trying to remain in good standing with my dear Chatham family. I can hear the butter knives being dropped on the floor in Chatham right now. I will have a lot of explaining to do.
I don't have a recipe for you because good corn should be served unadulterated…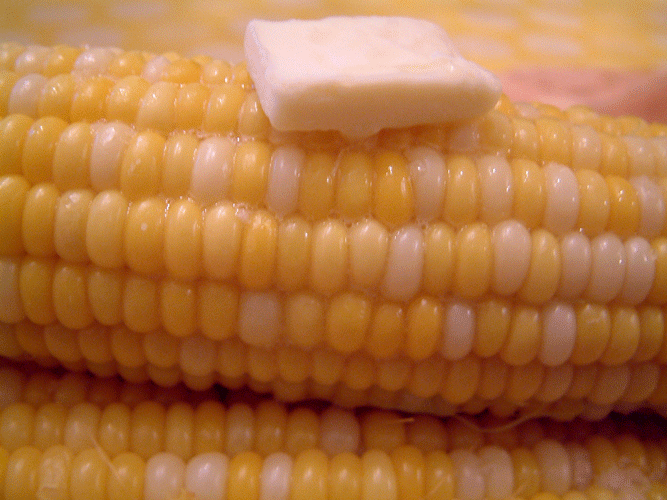 Or perhaps with a splurge of Stirling Whey Butter smeared over top. Mmm…creamy, slightly nutty, all natural buttery goodness. Artisanally crafted in Stirling, Ontario at Stirling Creamery since 1925.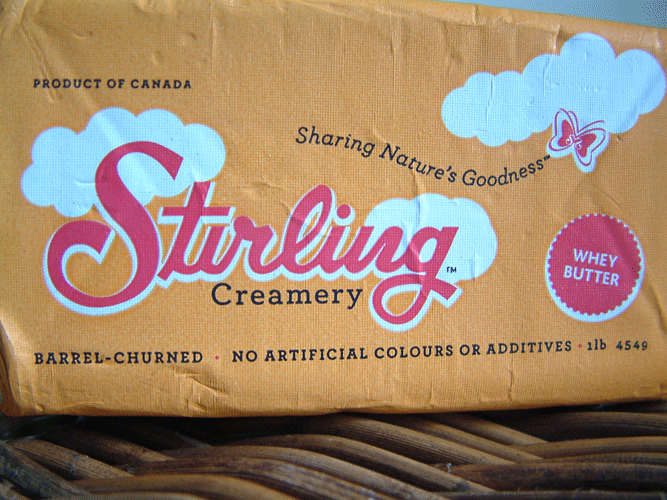 Allison's Farm Market
10636 Eighth Line, Georgetown, ON L7G 4S5
Tel: 905-873-8283
Open: 10:00 a.m. to 6:00 p.m. from June to Oct 31st
On-Farm Market: Grow and sell their own sweet corn and pumpkins. Bring in strawberries, apples, tomatoes, potatoes, squash, green beans, blueberries, peaches, melons, preserves, pies, bread (weekends only), fall décor, mums.
Farm Market Stand at: Georgetown Farmers' Market
Stirling Creamery Butter: Available at Longo's & Goodness Me! Visit Stirling Creamery's website for other GTA locations.